City secures R300 million Dutch-funding for public transport in Khayelitsha
2019-10-31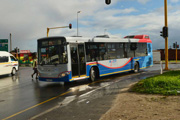 Today Council gave the City the greenlight to sign an agreement with the Dutch Government whereby the City of Cape Town's Transport Directorate will receive R300 million of grant funding over the next five to ten years to improve public transport for our commuters from Khayelitsha and Nyanga.
This funding agreement is known as the Orio Project. It is a collaboration between the City and the Dutch Government for the roll-out of the MyCiTi bus service between Khayelitsha and Wynberg and Claremont.
The importance of this funding from the Dutch Government cannot be overstated in times of economic hardship and where municipalities are forced to do more with less.
This constructive collaboration between the City and the Dutch Government dates back to June 2012 when the City successfully applied for the project to be considered. In October 2015 a contract was signed for the development phase of the project and the funding was used for devising a project plan for the implementation, operation and maintenance of the trunk and feeder routes of Phase 2A of the MyCiTi service between Khayelitsha and Wynberg and Claremont.
This time around the R300 million grant funding will be spent on the construction of new trunk routes and feeder routes for the MyCiTi buses, as well as bus stops and stations, and a bus depot in Khayelitsha. Given that the MyCiTi service will be connecting commuters with other modes of transport, such as minibus-taxis and trains, the funding will also assist in improving the following public transport interchanges (PTIs) as part of the Orio Project:
The PTIs mentioned above will be upgraded and developed to integrate with the surrounding precincts and community. We expect that the investment in the transport facilities will encourage others to also invest in developments surrounding the public transport corridors.
The Orio funding will assist in establishing PTI-precinct management entities and to train, guide and mentor those involved in these entities.
I want to thank the Dutch Government for their generosity and commitment that will see the improvement of public transport in a community where investment is much needed.
We are looking forward to extending our working relationship with the Dutch Government for the next decade and beyond.