MyCiTi's annual fare change takes place on 1 July 2023
New fares take effect on 1 July. This annual increase forms part of the City of Cape Town's Budget process and takes into account the latest cost projections for providing services over the year ahead.
For the 2023/2024 financial year, we have tried to keep fares as affordable as possible despite predictions of further diesel price increases. Instead, our tariffs allow for fares to change during the year if the price of diesel increases or decreases substantially.
This helps protects passengers from paying too much if the cost of diesel is reduced and protects the City from ongoing losses if the cost of diesel continues to increase signifiantly.
Get a card without paying more
You need a myconnect card loaded with money to use MyCiTi. The myconnect card is a bank card which expires, so remember to check the expiry date. They are available from any station kiosk and participating retailers. Keep your myconnect slip card in a safe place.
myconnect card: R35
Card expiry replacement fee: R22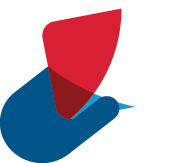 Ideal for a once-off journey, single-trip cards are available at any MyCiTi station kiosk. Each card is valid for a single trip anywhere on the MyCiTi system within two years of purchase. To get the real benefit of the MyCiTi service, opt for a myconnect card instead.
Single-trip card: R30
Single-trip card (inc Airport*): R100
*The Airport service is currently suspended.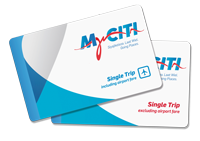 Mover fares - save all day long
| | | |
| --- | --- | --- |
| Distance band | Peak Fare | Off-peak (Saver) Fare |
| 0-5km | 11.90 | 8.90 |
| 5-10km | 15.90 | 11.90 |
| 10-20km | 20.90 | 16.90 |
| 20-30km | 23.90 | 19.90 |
| 30-40km | 27.90 | 21.90 |
| 40-50km | 29.90 | 25.90 |
| 50-60km | 31.90 | 27.90 |
| 60km+ | 34.90 | 29.90 |
*Peak fares apply to journeys starting on weekdays from 06:45 to 08:00 and from 16:15 to 17:30. Off peak or Saver fares apply to all other times, including all day on weekends and public holidays
*Journeys to the Airport attract an additional charge of R50.90. Please note that the Airport service is currently suspended
Enjoy unlimited travel on all routes for 1, 3 or 7 days.
1 Day Pass: R88
3 Day Pass: R202
7 Day Pass: R290
Enjoy unlimited travel on as many routes as you wish for one calendar month.
Monthly Pass: R990
Penalty charges apply if you don't tap in or out correctly. Tap in by holding your card against the validator whenever you enter a station or board a bus at a stop and tap out by doing the same when you leave.
First two penalties: R15
Subsequent penalties: R30
Penalty at Airport station: R99
Full fare evasion penalty: R537