Enjoy the world of cashless travel
MyCiTi's card-based payment system saves you the hassle of finding cash every day, cuts down on time queuing at the ticket kiosk and allows you to budget better by loading enough money in advance to travel for a week, month, or more.
Each passenger needs a myconnect card to travel except children younger than 4 years old, who travel free. Get your myconnect card for R35 from MyCiTi station kiosks or participating retailers, load your card with money for travel and enjoy convenient, quality public transport to get around CapeTown.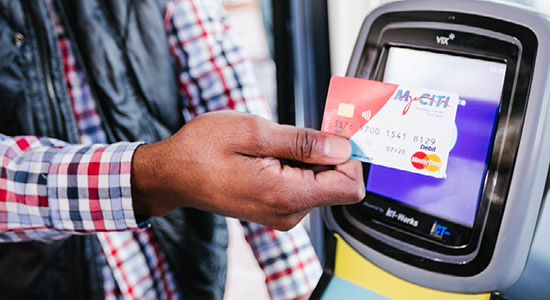 Each passenger needs their own myconnect card, except for children under four years old and one metre tall, who travel free.
Each myconnect card costs R35 from station kiosks and some shops.
Your myconnect card is a bank card.
Replace it well before it expires.
Load your new card with value and tap in and out to pay your fare
Once-off users can buy a disposable single-trip card loaded with one trip for R30.