MyCiTi is designed to ensure that all special needs passengers can use the service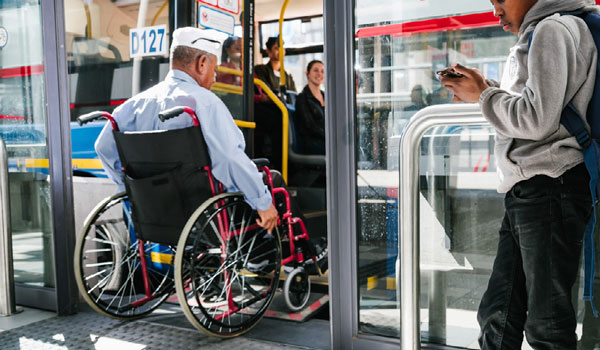 Catering for special needs
Special needs passengers include the disabled, the elderly, young children, pregnant women, passengers travelling alone at night, and passengers with luggage including suitcases, surfboards, prams and bicycles (subject to the limits described in the baggage allowances section).
MyCiTi's universal access facilities include tactile paving to help the visually impaired locate stations and platforms; induction loops at ticket kiosks for the hearing impaired and CCTV cameras, which are monitored by a control centre, on buses and at stations. There are also boarding bridges on buses serving residential and central city routes, which provide passengers with level access onto the buses from bus stops if required. All stations also make use of wide access gates to accommodate wheelchairs, bicycles and luggage.
Bring your bicycle on board
Bicycles are welcome on the MyCiTi system and can be carried free of charge, as long as they are stored safely and securely and do not cause inconvenience to other passengers. All bicycles must be kept in the space designated for them on the bus, next to the wheelchair area. If there isn't enough space in this area, you will need to wait for another bus.
Another major part of the MyCiTi system is a network of cycling paths and upgraded pedestrian walkways connecting to the bus routes. Many cyclists and pedestrians are using the special non-motorised transport lane from Table View to Cape Town city centre.