Next stop: Dunoon, 1 March 2014
2014-02-20
On 1 March 2014, MyCiTi will launch a service to Dunoon that will connect with the existing service along Blaauwberg Road to Table View station and the central city. 

This extension of the main route (T01) along Blaauwberg Road means that residents of Dunoon can now travel directly to Table View,  or continue to the Civic Centre station in central Cape Town.

It also provides convenient connections to Blouberg, Parklands,  Melkbosstrand, Century City and Montague Gardens via Racecourse Road. Passengers travelling to these areas will need to change buses at the Table View or Wood MyCiTi stations. 

The launch of this service includes the opening of five new stations along the route. They are Circle East, Potsdam, Killarney, Dunoon and Usasaza. It also includes a new, safe pedestrian and cycle route in Dunoon. This travels along Potsdam and Blaauwberg roads to the Table View station, where there is a connecting pedestrian and cycle route to the central city and further up the West Coast.

Construction work is continuing on the new phase of the service to Dunoon, which will travel along Koeberg Road on a more direct route to Montague Gardens and Century City. 

"We are delighted to be able to extend the popular MyCiTi service to the Dunoon area," says Councillor Brett Herron, Mayoral Committee Member: Transport for Cape Town. "This completes another major part of the system on the West Coast. We urge everyone to get a myconnect card so they can enjoy the MyCiTi service."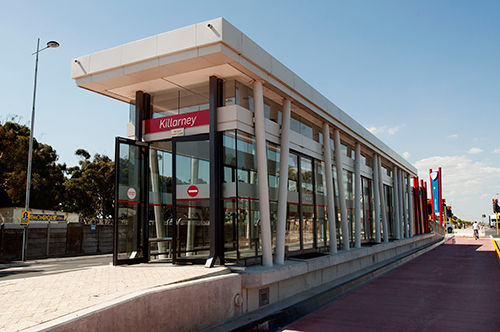 Withdrawal of minibus taxis
Minibus taxi passengers in Dunoon should note that some minibus taxis will no longer operate in the area. From 1 March 2014, 62 minibus taxis between Dunoon and the Table View, Parklands and Melkbosstrand suburbs will be removed. These passengers need to get a myconnect card and load it with enough money to pay for their trips. Minibus taxis servicing other areas as well as Golden Arrow bus services will continue to operate in and around the Dunoon area.
Get your myconnect card
Everyone four years and older needs their own myconnect card loaded with value to travel with MyCiTi. Get your card for R25 from MyCiTi stations and participating retailers.

For a limited time, you can buy 30 Mover points and get your myconnect card free. You pay R30 for the Mover points for your trips and save on the usual R25 card cost. Visit the Dunoon MyCiTi station from Saturday, 22 February with R30 in cash and proof of identity(ID book, passport, driver's licence or birth certificate).
Pamphlets
View or download a newspaper insert explaining more about the Dunoon service, including timetables and fares for trips from Dunoon.