Wynberg Public Transport Interchange (PTI)
A significant upgrade is proposed for the Wynberg public transport interchange (PTI) and the public are invited to comment by 9 December 2022.
The existing PTI near the Wynberg train station is stretched beyond capacity, with an estimated 48 000 commuters and 1 500 minibus taxis and Golden Arrow buses using the facility daily. The precinct is also in a poor state due to a lack of investment, pedestrian safety is compromised, and surrounding roads are heavily congested.
The proposed upgrade aims to help address these challenges through new and upgraded facilities that are modern functional, efficient, convenient, safe, dignified and clean, and which can handle the large volumes of people who access and transfer between minibus-taxis, rail and bus services here daily.
The revamped PTI will also significantly reduce traffic congestion in the vicinity, provide better, safer walking facilities, and help revitalise the precinct for the benefit of commuters, public transport operators, other road users, residents and businesses.
The plan also includes accommodating MyCiTi services, with two new stations to serve future bus routes to Claremont, Khayelitsha and Mitchells Plain. This follows approval by Council of the main routes and stations for Phase 2A of MyCiTi services, after extensive public participation in 2015.
Public Information Day - Artist Impressions and Precinct Maps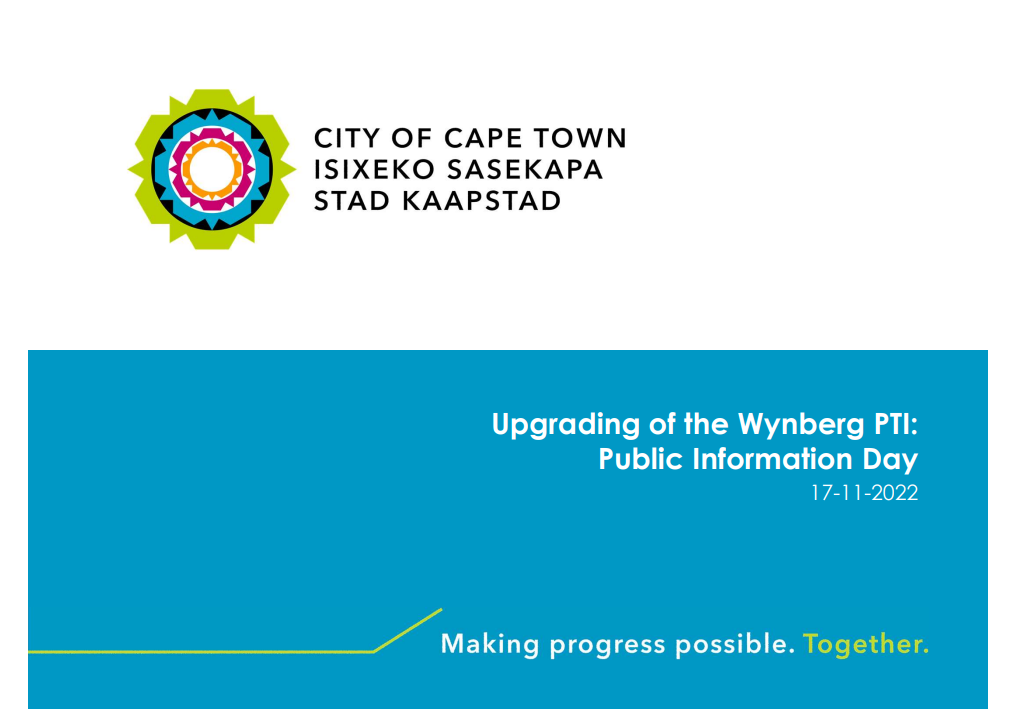 Proposed improvements to the PTI
New two-floor facility with holding area (1) and a rank (2) for minibus-taxi services to the Cape Town CBD on ground level and metro south-east on the upper level.
New ramp (4) from Brisbane Road over the railway line into the upper level of the minibus-taxi facility.
Upgraded ground-level minibus-taxi rank (10) and holding (11) facility between Ottery Road and the railway line, serving routes to Grassy Park and the south.
Two new MyCiTi stations (7), one on either side of the railway line, along Station Road and the re-aligned Sussex Road, for future services to Claremont, Khayelitsha and Mitchells Plain.
Drop-off and pick-up points for Golden Arrow buses (14).
Other improvements include:
Bus lanes, walking and cycling lanes, road upgrades, hard and soft landscaping
Offices, washing facilities, ablutions, security and cleaning services for minibus-taxi operators
Ablution facilities and universally accessible walkways and ramps for commuters, covered loading lanes and waiting areas
Improved safety through design elements and additional lighting
Facilities for traders on the ground floor and upper level
Proposed improvements to surrounding roads
The vehicle underpass (13) linking Broad Road with the existing PTI will be converted into a pedestrian-only zone and refurbished, with art installations. The pedestrian underpass under the railway tracks to the south of the railway station will also be upgraded.
Morom Road will be permanently closed to vehicular traffic at the intersection with Church Street (12), providing a safe pedestrian space.
Sussex Road will be realigned to allow more space for the minibus-taxi facility (10 and 11). The northern end of Sussex Road will be realigned into Bexhill Road to provide access to the Wynberg Yussufia Mosque (8). The realigned Sussex Road will become a one-way southbound, for use by buses only. The realigned intersection of Sussex and Ottery roads will be signalised.
A right-turn lane will be added to Broad Road (toward the railway line) at the Broad and Brisbane roads intersection.
Station Road will remain a one-way toward the railway line but will be reserved for use by MyCiTi buses and delivery vehicles only.
Maynard Road will be converted from a one-way westbound to a one–way eastbound for use by general traffic.
Church Street, between Main Road and Station Road will be converted from a one-way eastbound to a one-way westbound for use by general traffic.
Join us at a public information day to view detailed drawings and speak to someone from the MyCiTi team. If you are unable to attend, you can visit www.capetown.gov.za/haveyoursay to view the detailed drawings and comment online.
Venue: Wittebome Civic Centre, Wynberg
Date: Thursday, 17 November 2022
Time: 14:00 -19:00
Submit comments
In terms of section 17 of the Local Government: Municipal Systems Act, Act 32 of 2000, the public and interested and affected parties may submit comments or input to the municipality by 9 December 2022.
Quote the unique reference number MS004/2022.
Submit your comment or objection via www.capetown.gov.za/haveyoursay
Hand in your written comment or objection at Subcouncil 20, Alphen Centre, Constantia Main Road, Constantia
The City's Public Participation Unit will assist people who cannot read or write, people living with disabilities and people from disadvantaged groups who are unable to submit written comments, to have their comments or input recorded and submitted to the City. Call Anthea Bendie on 021 400 1450 or email Anthea.Bendie@capetown.gov.za