MyCiTi Fare Increase – 1 March 2022
Fares will increase as of 1 March 2022 due to the ongoing high cost of fuel resulting from significant price hikes in recent months.
MyCiTi fares are reviewed and adjusted at the start of every financial year (1 July) in response to the latest cost projections for providing services, including the price of fuel.
However, the annual council-approved tariffs also require that fares must be increased or decreased during the financial year where there are significant and sustained fuel price changes. The tariffs for each financial year therefore include different sets of fares that apply for specific increases and decreases to the fuel price. This protects passengers from paying too much when the fuel price decreases substantially, and protects the City from ongoing losses when the fuel price increases substantially.
The required conditions have now been met for a mandatory increase to MyCiTi fares effective from 1 March 2022.
Despite these changes, MyCiTi fares remain comparable to other public transport services and modes, which have also experienced fare increases in recent months.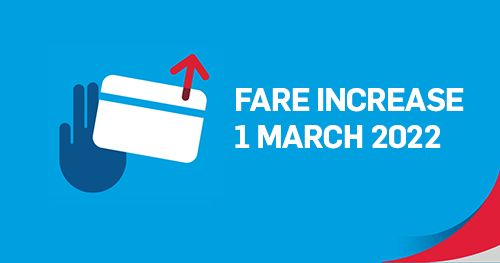 Fares effective 1 March 2022
The table below compares current fares with the new fares effective 1 March 2022.
Distance band

Peak Fare
Current

Peak Fare
1 March 2022

Off-peak (Saver) Fare
Current

Off-peak (Saver) Fare
1 March 2022

Example journeys

0-5km

9.90

10.70

7.40

8.00

Omuramba – Century City Rail

5-10km

13.00

14.00

9.60

10.40

Salt River – Civic Centre

10-20km

17.60

19.00

12.80

13.80

Dunoon – Civic Centre

20-30km

20.40

22.00

15.60

16.80

Big Bay - Civic Centre

30-40km

22.10

23.80

16.90

18.20

Melkbosstrand – Sea Point

40-50km

23.50

25.40

19.10

20.60

Atlantis – Century City

50-60km

25.80

27.80

21.50

23.20

Atlantis - Adderley

60km+

27.90

30.10

23.60

25.40

Hout Bay - Atlantis
From 1 March 2022, journeys connecting with the Airport will cost the distance-based fare plus an additional R45 (currently R41).
Single-trip tickets
A single-trip card for one journey anywhere on the system will increase from R30 to R32, and from R85 to R92 for journeys including the Airport.
Penalties
Penalties for not tapping correctly remain unchanged except on the Airport service, where the penalty will increase from R84 to R90. The penalty for fare evasion increases from R427 to R460.
Day Passes
Day Passes offering unlimited travel will increase as follows:
A 1 Day Pass will increase from R70 to R80.
A 3 Day Pass will increase from R160 to R175.
A 7 Day Pass will increase from R230 to R250.
Monthly Pass
A Monthly Pass offering unlimited travel on all routes for a calendar month will increase from R790 to R850.