New Sea Point route launches on 14 December 2013
2013-12-04
Buses on the Sea Point - Fresnaye - Three Anchor Bay route (Route 113) will travel from the beachfront at Three Anchor Bay, up Glengariff Road, along Ocean View Drive, down Avenue Disandt in Fresnaye and Kei Apple Road, and into Regent Road before returning. 

Passengers can transfer to the popular Sea Point - Waterfront - Civic Centre route (104) at the Three Anchor Bay stop or at Queens Beach station, which is a short walk from the Brevity Lane and Tramwell stops on route 113. 
 
MyCiTi services in the area will be complete when the route from the central city along Main Road to Hout Bay launches in 2014. 

Passengers on the Ocean View Drive section of route 113 wishing to travel directly to the city centre should alight at Kort stop and walk to the St Bedes stop on High Level Road, where you can transfer to route 105 to continue your journey to Strand and Adderley streets.

With MyCiTi's distance-based fare system, you can leave one route and transfer to another within 45 minutes, and it will be considered a single journey with one fare charged for the total distance travelled.

Public transport users should note that minibus taxi and other bus services are being withdrawn as MyCiTi buses are introduced on these routes.

Remember, you need a myconnect card to use MyCiTi buses.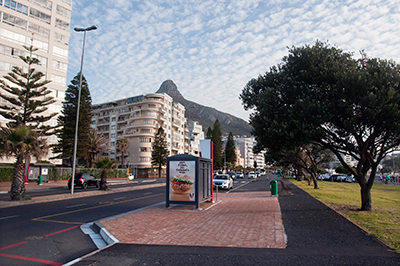 3 ways to get your myconnect card
1. Buy a card and load money at MyCiTi stations and participating retailers
You can get a myconnect card for R25 and load money at MyCiTi station kiosks and participating retailers. You save at least 20% on fares by loading a Mover package on your card, available only at MyCiTi stations.

In Century City, where there is no station, MyCiTi kiosks are operating at the Century Avenue and Ratanga public transport interchanges to sell cards and load Mover packages. The kiosks will operate seven days a week from 30 November 2013, from 08:00 to 18:00. 
View MyCiTi stations and retailers 

2. Get a free card when new routes launch
MyCiTi is holding myconnect promotions from 25 November 2013, where you can get a free card loaded with 30 Mover points for travel. You pay R30 for the 30 Mover points and save on the R25 card cost. 
View free card promotion details

3. Buy a preloaded card on buses on new routes
Preloaded cards are being sold on buses on the Camps Bay (106 and 107) and Century City (251) routes from 30 November - 7 December 2013, from 08:00 until until 17:00. Like the free card, these cards are loaded with 30 Mover points but you pay R55 (R25 card cost + R30 for Mover points).