MyCiTi's annual fare change takes place on 1 July 2022
MyCiTi fares are reviewed and adjusted at the start of every financial year (1 July) as part of the City of Cape Town's annual budget.
The good news is that from 1 July 2022, most of our passengers will pay a little less. This follows the mandatory fare increase that took effect on 1 March, triggered by a significant increase in the cost of fuel.
Passengers should note that despite the welcome decrease in most fares, there could be further, unplanned fare increases during the financial year should the price of fuel continue to rise.
For now, fares are set to decrease for all journeys in the morning and afternoon peak fare periods (weekdays from 06:45-08:00 and 16:15-17:30) as well as for all off-peak journeys under 20km. Overall, our off-peak fares remain the most cost-effective way to travel.
A new R35 Mover package will also be introduced, providing more flexibility for passengers loading points to travel.
Get a card without paying more
You need a myconnect card loaded with money to use MyCiTi. The myconnect card is a bank card which expires, so remember to check the expiry date. They are available from any station kiosk and participating retailers. Keep your myconnect slip card in a safe place.
myconnect card: R35
Card expiry replacement fee: R22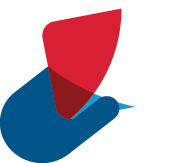 Ideal for a once-off journey, single-trip cards are available at any MyCiTi station kiosk. Each card is valid for a single trip anywhere on the MyCiTi system within two years of purchase. To get the real benefit of the MyCiTi service, opt for a myconnect card instead.
Single-trip card (exc Airport): R30
Single-trip card (inc Airport): R90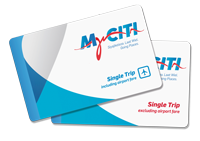 Mover fares - save all day long
| | | | |
| --- | --- | --- | --- |
| Distance band | Peak Fare | Off-peak (Saver) Fare | Example journeys |
| 0-5km | 9.90 | 7.90 | Omuramba – Century City Rail |
| 5-10km | 13.90 | 10.30 | Salt River – Civic Centre |
| 10-20km | 17.90 | 14.10 | Dunoon – Civic Centre |
| 20-30km | 19.90 | 16.90 | Big Bay - Civic Centre |
| 30-40km | 23.50 | 18.90 | Melkbosstrand – Sea Point |
| 40-50km | 25.30 | 21.70 | Atlantis – Century City |
| 50-60km | 27.50 | 23.50 | Atlantis - Adderley |
| 60km+ | 29.70 | 25.70 | Hout Bay - Atlantis |
Pay less to connect with the Airport
The Airport premium is charged in addition to the distance-based fare when you tap in or out at the Airport station. This premium will be reduced to R44 from 1 July 2022.
A new R35 Mover package will also be introduced, providing more flexibility for passengers when loading points to travel. Other packages are available in amounts of R20, R50, R60, R80, R100, R150, R200, R300, R400 and R600. Load a Mover package at a station kiosk, cash-accepting Absa ATM or participating retailer and save on fares at all times.
Enjoy unlimited travel on all routes for 1, 3 or 7 days.
1 Day Pass: R75
3 Day Pass: R175
7 Day Pass: R250
Enjoy unlimited travel on as many routes as you wish for one calendar month.
Monthly Pass: R840
Penalty charges apply if you don't tap in or out correctly. Tap in by holding your card against the validator whenever you enter a station or board a bus at a stop and tap out by doing the same when you leave.
First two penalties: R15
Subsequent penalties: R30
Penalty at Airport station: R85
Full fare evasion penalty: R455